A native of Nenagh, Brendan's family roots are embedded in the town for many generations. Brendan is a family man who lives with his partner Niamh and their daughter Carly. Brendan has another daughter Rachel who works in pharmacy and has a keen interest in helping Brendan succeed in public life. Brendan works as a Senior retail manager on Pearse street in Nenagh and has been working there since 2009. He is the Chairperson for Darkness Into Light Nenagh since 2018, founder of the Nenagh Classic Car Club (est 2013) and is Vice-Chair of the North Tipperary Agricultural Show.
Brendan got involved in politics because he believes he can make a difference, "every accomplishment starts with the decision to try" and Brendan is dedicated to working hard to help those who need it most and to make his community a better place.
Brendan joined the Lowry Team because he believes that Deputy Michael Lowry and the Lowry Team share the same dedication and drive to help people in the community who need it most.
Brendan's area is the Nenagh LEA.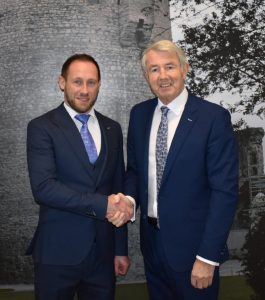 Contact details
Brendan Murphy
086 3750000
brendanmurphy.teamlowry@gmail.com
Facebook: https://www.facebook.com/imbackingbrendan/
Instagram: https://www.instagram.com/brendanmurphy_teamlowry/
LinkedIn: https://www.linkedin.com/in/brendan-murphy-42943934/