Michael Lowry TD Biography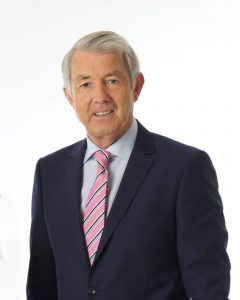 Michael Lowry is one of Ireland's best known politicians. Since he first put his name on a ballot paper back as an aspiring young County Councillor in 1979, to being elected for the first time as a Fine Gael TD in 1987, to his six consecutive poll-topping Elections as an Independent TD since 1997, Michael Lowry has been a high profile public representative. His unbroken political career is a testament to how sheer determination, hard work, endless energy, a passion for helping others, consistently delivering the best and always being available to listen to peoples' needs, pave the pathway to success in politics. Michael Lowry's heart lies in Tipperary and his greatest pleasure comes from serving the people of his native county.
Where it all began…
Michael was educated at Thurles CBS and began his community activity as Secretary of the local Holycross – Ballycahill GAA Club. He was appointed Chairman of the Mid Tipperary Divisional Board in 1982. He had a trajectory of advancement and became the youngest ever Tipperary County Board Chairman. During Michael's three year term, he was responsible for introducing a new era of Semi-Professionalism for the Senior Hurling Panel. The method of appointing selectors for the Senior County team was reviewed which led to the appointment of 'Babs' Keating. Babs subsequently led Tipperary to a Munster Final victory in 1987 following a famine of sixteen years. This paved the way for All Ireland victory for Tipperary in 1989.

Michael was appointed Chairman of the Semple Stadium Management Committee in 1986. The stadium was on the brink of insolvency with £1.5million in debts following the 1984 GAA Centenary expenditure. To overcome this issue, Michael was the brainchild behind the music festival "Feile", also known as 'The Trip to Tipp' which was introduced as a means of successfully repaying the outstanding debts. To this day it is recalled as one of the best music festivals of all time in Ireland. Ten years ago Michael launched the 'Cut Loose' Country Music Festival in Holycross to help the local GAA club and this event has since become a firm date in the diaries of music festival goes from around the country, providing a platform for Irish country artists and a fun filled day out for young and not so young.
The early years in Politics…
Michael was first elected to Tipperary North Riding County Council in 1979. His continued political success then led Michael to Dáil Éireann where he was elected as a Fine Gael TD for Tipperary North in the 1987 General Election. In 1993 he became Chairman of the Fine Gael Parliamentary Party. The year 1994 saw him lead the Fine Gael negotiations that resulted in the formation of the Rainbow Government under John Bruton with Labour and Democratic Left. Michael was subsequently appointed Minister for Transport, Energy and Communications where he was responsible for:

The restructuring of CIE and Aer Lingus
Cost & Competitiveness Review of the ESB
Securing the future of Bord Na Mona
The reform of An Post
The launch of the LUAS project
The sale of TEAM Aer Lingus to SRS Technic
The Rationalisation of State Bodies
Investment Programme in Regional Airports
Extension of DART
New East Midlands Power Station 120 MW
In 1996, Michael stood down from Government and resigned from the Fine Gael Party. He continued his political career as an Independent T.D.
The Independent years…
Michael has topped the poll as an Independent TD in the last six General Elections which took place in 1997, 2002, 2007, 2011, 2016 and 2020. In 2007 he received almost 13,000 first preference votes, one of the highest counts in the country. He topped the poll in 2011 with over 14,000 first preference votes. 2020 was his ninth General Election and his sixth consecutive poll topping Election as an Independent candidate. On this occasion he achieved his highest ever vote with 14,802 first preferences, exceeding the quota by 1,170 votes.

Since that General Election in February 2020, Michael has become a member of a newly formed group of like-minded Independent TD's in the Dail, known as the Independent Regional Group, who are playing a crucial role in the ongoing discussions on the formation of a Government.
Building 'The Lowry Team'
In 2004, Michael nominated ten candidates for the North Tipperary Local Authority elections. Six succeeded in being elected as Councillors and became members of 'The Lowry Team'. In 2009, nine candidates were nominated and seven were elected. In 2014 Tipperary North and Tipperary South were amalgamated and that year Michael nominated six candidates, of which three were elected. The most recent local elections were in 2019 when Michael nominated five candidates with all five being elected. This 2019 campaign is fondly referred to as "The Drive for Five" and the Councillors that make up the present Lowry Team are Cllr Eddie Moran, Cllr Michael O'Meara, Cllr Shane Lee, Cllr Rocky McGrath and Cllr Michéal Lowry. Michéal is Michael's eldest son and is currently serving his 4th term on Tipperary County Council and topped the 2019 Local Election poll in the Thurles electoral area.

Locally, Michael has the reputation of dedication and, most importantly, delivery. Among many, the establishment of the Tipperary Institute in 1998 and the draining of the Mulcair River were two major achievements for North Tipperary and were as a result of Michael's efforts.
Highlights of many recent achievements…
Redevelopment of former Erin Foods site -The redevelopment of the former Erin Foods 8-acre site to house a new Lidl Retail outlet together with a 60,000 sq. ft. Business and Innovation Centre.
Thurles Inner Relief Road – Included in the redevelopment of the former Erin Foods site is the first phase of construction of the Thurles Inner Relief Road, with the opening of the site facilitating the drawdown of Local Authority funding.
Regeneration of Liberty Square – €8 million in funding approval for the Regeneration of Liberty Square in Thurles. €4million provided by Tipperary Local Authority and a matching amount secured by my representations from Central Funds.
Fethard Town Park – Secured the sum of €2.6m under the Governments Regeneration Fund which has been matched by Mr. John Magnier bringing the funding to €5million with an amazing package of facilities. 
Jigsaw – Ensuring Thurles as the base for Jigsaw (offering support to young people suffering with mental health issues) with numerous regional outreach centres to compliment the service including both Roscrea and Clonmel.
Tipperary Task Force – An Initiative I proposed to Taoiseach Leo Varadkar to establish the Tipperary Task Force. The Task Force will develop and deliver an action plan to revitalise Tipperary Town.
Tipperary Digital Hub – Instrumental in securing the funds under the Regional Enterprise Development Fund, For Tipperary Technology Park to receive an allocation of €500,000 alongside a further €100,000 from Tipperary County Council.
Nenagh Hospital – Major investment package for Nenagh Hospital, totalling over €6.5 Million, to upgrade facilities and to ensure the viability of the hospital into the future.
Investment includes-
Fully equipped, modern, endoscopy suite
New Sterile Services Department.
New lifts
New Surgical Unit
Cataract Surgery Unit
Borrisokane Town Regeneration – Secured funding for the inclusion of Borrisokane as part of the Town and Village Renewal Scheme with works including both streets and pavements.
 
Cashel Palace Hotel – Planning for the multimillion Euro redevelopment of the Cashel Palace Hotel which ceased trading in 2015 and is due to be open in late 2020 with employment of 100 staff.
 
Roscrea Digital and Social Media Hub – Secured funding of €1,925,546 million through the Rural Regeneration and Development Fund. The Roscrea project will refurbish and repurpose a vacant property located in the town centre and establish an enterprise, digital and social impact hub.
Templemore Flood Relief Scheme – The town has a history of flooding over the last 150 years. The flood relief scheme will include a section of channel relocation. This means 750m of new river channel will be created. The overall benefit of the Templemore Flood Relief Scheme is that it will eliminate the risk of future flooding.
South Tipperary General Hospital – Securing funding of €50 million from The Capital Investment Plan for South Tipperary General Hospital to include a 40 Bed Modular Unit. First 20 Beds opened in February 2020.
Clonmel Garda Station – Future construction of a new Garda District Office which will be located at Kickham Barracks, Clonmel.
National Broadband Plan – Obtained substantial Investment to connect over 29,600 homes, farms, businesses and schools in Tipperary through the national broadband plan. To include 10 special broadband connection points selected for high speed fibre connection.
Sports – Secured allocation of €1.6 Million to County Tipperary under the Sports Capital Fund. It Is Part Funded from The Proceeds Of The National Lottery. In total 45 sports clubs and voluntary organisations benefited from the funds.
Cybersmarties – Lobbied for Cybersmarties to be endorsed by An Garda Siochana to launch the much needed cyberbullying solution for children. Cybersmarties.com uses unique emotional learning technology which detects and protects children as they are sending messages and demonstrates why the content of those may upset others.
Looking to the future…
It is widely acknowledged that Michael Lowry's willingness in the past to participate in discussions supporting the formation of Government have ensured significant investment for Tipperary.

Michael's reputation for hard work, delivery and dedication defines who he is and makes his political career to date so successful. He has a 100% record, having been elected to the Dáil on every attempt since 1987.

As he begins his term in the 33rd Dail, Michael will have been in politics for 33 years. Few can match his record, and he is far from being finished his work for both country and county.